Detox Green Smoothie
orange · cucumber · spinach · pear · avocado · date · lime · ginger · lemon zest · mint · turmeric
NO ADDED SUGAR, GLUTEN-FREE, DAIRY FREE
WHOLE VEGGIES, FRUITS, NUTS, SEEDS & SPICES
ADD LIQUID & BLEND FOR A 16oz SMOOTHIE IN 1 MINUTE
Regular price

Sale price

$ 7.99
SHIPPING SCHEDULE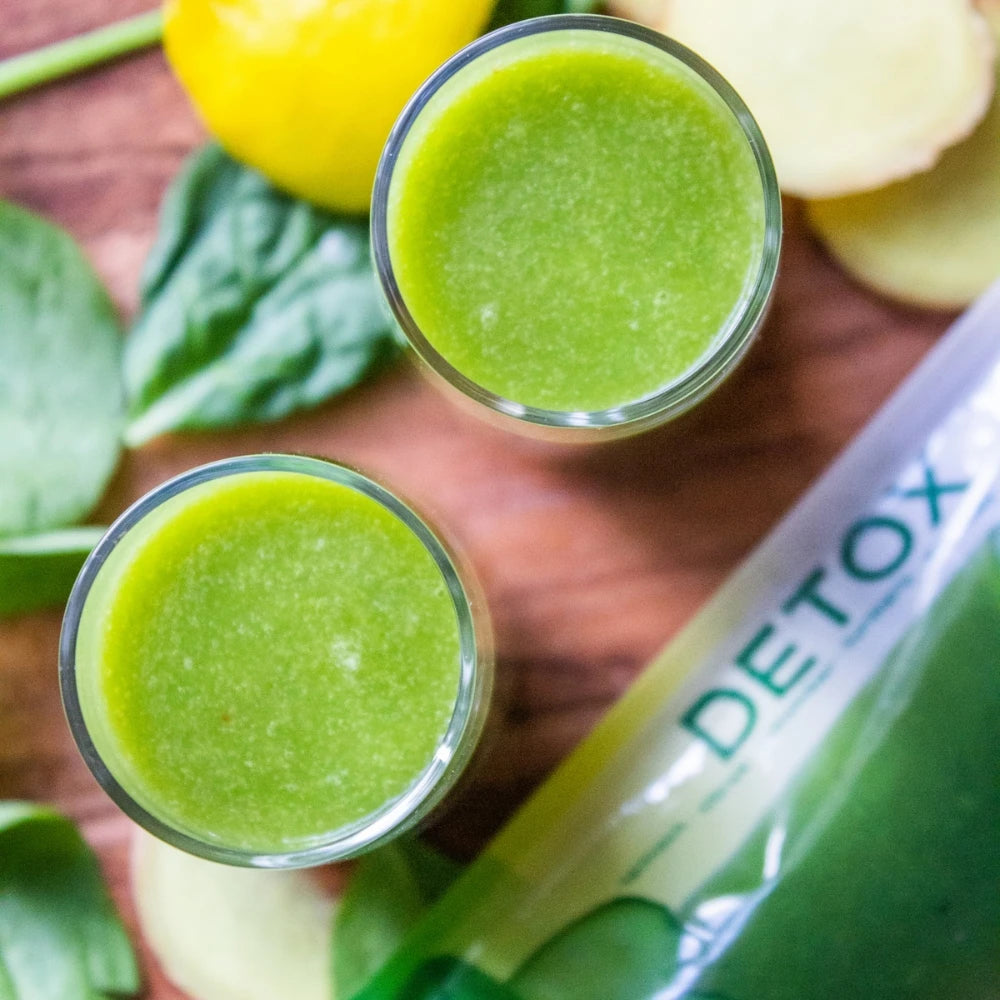 Shipping Schedule
❄️ ALL ORDERS SHIP FROZEN WITH DRY ICE ❄️
Due to the logistics of shipping frozen and ensuring your Frozen Garden goodies arrive in a timely (and frozen) manner on your doorstep, we are only able to ship orders out on Mondays, Tuesdays and Wednesdays (Zone 1 & 2 also ship on Thursdays if Saturday delivery is available). All orders placed by 11:59pm EST the night before will ship out on the following Monday, Tuesday or Wednesday, with the exception of major holidays and/or weather forecasts that may result in delays during transit.
Find your location on the map below to determine how long your package will be in transit once shipped:
Detox INFO
DESCRIPTION

Green Detox Smoothie · Best Green Smoothie · Spinach Smoothie Pack · Smoothie Delivery with No Subscription

Revitalize your body with our invigorating Detox Green Smoothie, the ultimate choice for a refreshing and nourishing experience. Packed with a powerhouse of detoxifying ingredients, this green detox smoothie is carefully crafted to help you feel your best.

Indulge in the best green smoothie available, bursting with the vibrant flavors of spinach, mint, lime, ginger, cucumber, and turmeric. Each ingredient is carefully selected to provide natural detoxification properties, aiding your body in eliminating toxins and reducing inflammation. Experience the rejuvenating benefits of this carefully curated blend.

Not only does our Detox Green Smoothie support your body's detoxification process, but it also serves as a fantastic source of healthy green nutrients. With every sip, you'll enjoy a delicious and convenient way to get your daily dose of greens, promoting overall well-being and vitality.

No time to gather and measure ingredients? Our frozen smoothie packs offer the ultimate convenience. Simply blend our smoothie blend and experience the exceptional taste and health benefits in every sip. It's never been easier to enjoy a healthy and delicious green smoothie.

Elevate your well-being and embrace the power of our Detox Green Smoothie. It's time to give your body the nourishment it deserves. Order now and embark on a refreshing journey toward a healthier you!
INGREDIENTS
NUTRITION FACTS
HEALTH BENEFITS
HOW SMOOTHIES WORK
POUR

Keep frozen until ready to blend. Pour frozen smoothie mix contents into blender.

ADD LIQUID & BLEND

Add water (or liquid of choice) using the convenient fill line on the pouch. Blend for 60 seconds. Click here for blending liquid ideas.

ENJOY

Pour into a glass and enjoy! Each frozen smoothie pack makes a 16oz smoothie.
FROZEN GUARANTEE
At Frozen Garden, we totally get that unforeseen circumstances can happen during the journey from our freezer to yours. If your package arrives anything less than ice-cold and perfectly frozen for any reason, don't you worry! We've got your back. We'll replace it for you, absolutely free of charge.