MEET OUR FARMERS
Here at Frozen Garden, we are firm believers that in order to expand the real food movement, you have to support small real food farmers. This is why we source as much as we can from small local farmers in our area. Check out some of these awesome people that help supply the ingredients used in your Frozen Garden goodies.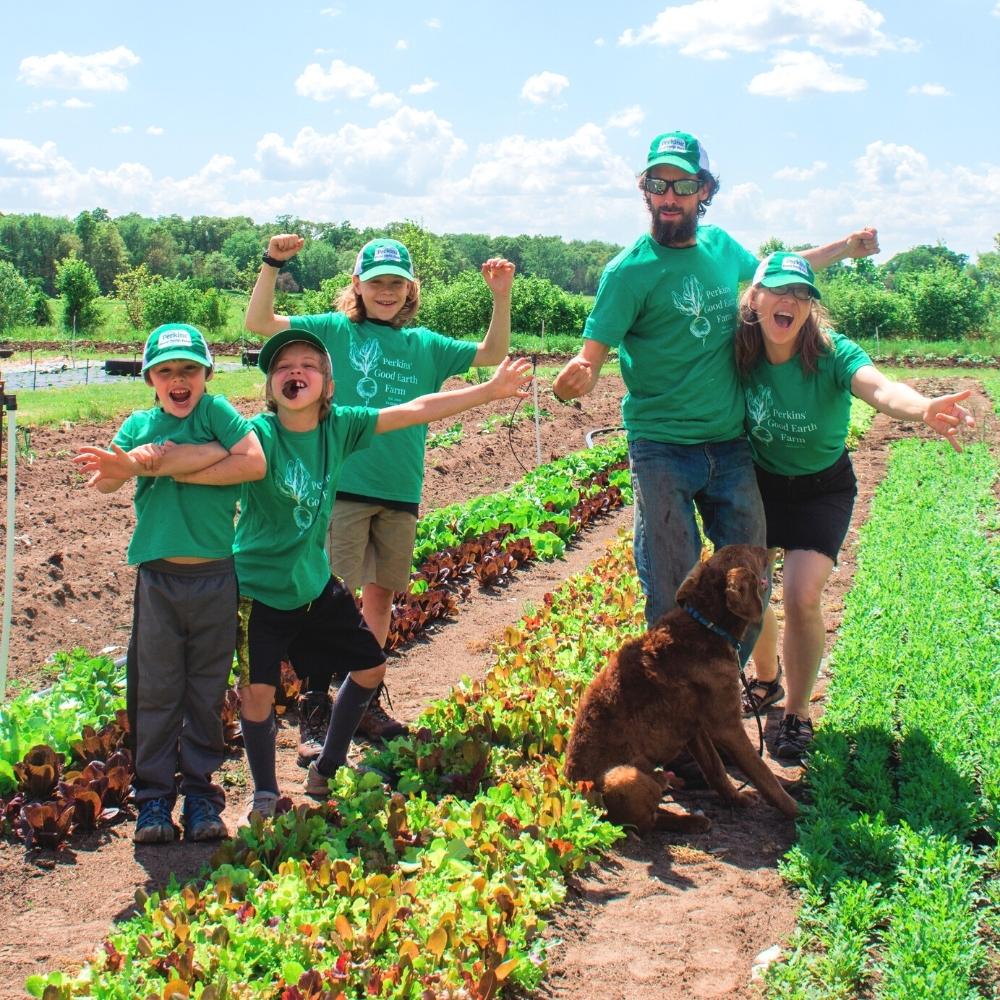 Dan and Julie Perkins | Demotte, Indiana
SPINACH · KALE · CUCUMBER · CARROT · ZUCCHINI · MINT · PARSLEY · BASIL · ROSEMARY
Perkins Good Earth Farm
Helping make big muscles (like Popeye!) since 2009, Perkins Good Earth Farm is a family-operated farm in DeMotte, Indiana. Their name, in part, was inspired by the premise of The Good Earth—nourishing the land, respecting nature and having a good work ethic. Certified Naturally Grown, owners Dan and Julie take pride in going beyond organic by balancing complex and dynamic relationships within the whole farm system. They use methods such as cover crops, organic inputs, bare fallow periods, skim plowing and minimum tillage all while ensuring their farm products are of the highest quality, for you and your health. We use Perkins kale, spinach, cucumbers, carrots and zucchini in our Smoothies and Garden Bowls. Their delicious herbs are used in our Fusion water infusers and Garden Bowls to really make the flavors pop.
KALE · CUCUMBER · ZUCCHINI · CAULIFLOWER · CELERY
Great Inspirations Farm
It's easy to get inspired by Great Inspirations Farm! Committed to being good stewards of the environment, Great Inspirations grows produce using sustainable and biodynamic processes. They know that by giving to the Earth, the Earth will return even more to us and that's pretty freakin' awesome. That's why we donate 100% of our food waste/scraps to the farm for composting which helps feed the soil they use to grow produce for our products. Located in Chesterton, Indiana, the farm also grows kale, cucumbers, zucchini, cauliflower and celery which we include in our Smoothies and Garden Bowls.
Wendy Sims | Chesterton, Indiana
John Nelson | Mishawaka, Indiana
BLUEBERRY
Organic Blueberry Ranch
For once, it's cool to be blue! Since 2009, the Blueberry Ranch is one of the only 100% USDA Certified Organic blueberry farms in the Midwest. And we aren't exaggerating when we say these are literally the most delicious blueberries on the planet! Located in Mishawaka, Indiana, the Blueberry Ranch grows nine different varieties of blueberries. Straight from the field, these little blue guys are frozen immediately after picking and stored in the ranch's industrial freezer until they're delivered to our door. We are very lucky to source these delicious local organic blueberries year-round! You'll find these plump sources of antioxidants in our Blueberry Hemp Overnight Oats as well as Berrikini, Rollin' Oats and Purple Passion Smoothies.
HEMP SEED · CHIA SEED · FLAX SEED · CACAO · HIMALAYAN PINK SEA SALT
Sprouting to life in 2002 in Angola, Indiana, Foods Alive sources the highest quality and best tasting superfoods from across the globe to provide the most mineral rich and nutrient dense foods available. Foods Alive's superfoods are a great source of antioxidants, amino acids (proteins), dietary fiber and many other hard to find essential vitamins and minerals that are necessary for maintaining a healthy lifestyle. We are so lucky to have a fellow Indiana family-owned company to source our seeds and the most delicious Himalayan pink sea salt. Find their omega-3 packed chia seeds, nutty-flavored hemp seeds, fiber-packed flax seeds, mineral-packed Himalayan pink sea salt and magnesium-rich raw cacao in our Smoothies, Delites, Garden Bowls.
Michael & Ellen Moor | Matt & Tammy Alvord | Angola, Indiana