Create Your Own Healthy Shamrock Shake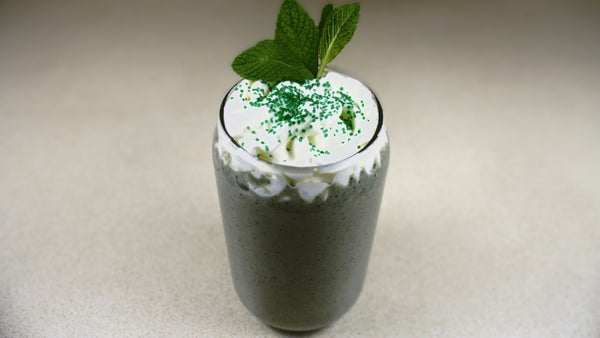 It's March, and you know what that means! Shamrock Shakes! It's the time of year when many people begin indulging in these artificially flavored minty green milkshakes. They're a fun and festive way to celebrate St. Patrick's Day, but behind the clover-colored facade is a laundry list of ingredients with an even higher calorie count. A 22 ounce Shamrock Shake contains over 800 calories and more than 30 ingredients! That's right. 30! 3-0. Even if you don't mind what it's made of or the calories, you might not know what the ingredients actually are that you're ingesting. 
This is just a sampling of some ingredients that you can find in a Shamrock Shake:
And that's just a fraction of the ingredients used in the popular Shamrock Shake. But how can you resist such a tasty treat when it's only available for a limited time? Well, the good news is, you don't need to resist! You just need to find a way to make a healthy shamrock shake! Even more, we've done all the work for you to come up with a Shamrock Shake that's leprechaun approved! And, in case you need any more reason to give it a try, having access to this recipe means you have access to a Shamrock Shake any time of the year.
Gathering your Ingredients
To make a healthy shamrock shake, the first thing you'll need is your favorite green smoothie and a liquid base (we just used water, but, for added milkshake vibes, you can choose to use milk or a milk alternative). You'll want to make sure one of the main ingredients in the smoothie, second to your favorite leafy green (for color in addition to the abundance of nutrients leafy greens provide), is banana. The banana will add to the creaminess of the milkshake as well as compliment the mint that we'll be adding in later. We recommend making this recipe with our Rollin' Oats Smoothie. Or, for a chocolatey twist on the minty classic, we recommend using our Berry Choco-Latte or Chocolate Dream Smoothies. But, of course, you can use whatever combination of fruits and veggies you like to use in your daily smoothie.
Don't have a go-to smoothie recipe? No problem! Just use one or two handfuls of spinach, a frozen banana, and a tablespoon of chia seeds for the base of your healthy shamrock shake. (But don't forget to check out our selection of smoothies to find your new go-to!)
The most notable aspect of a Shamrock Shake is clearly the mint flavor. To make sure we brought that flavor to our healthy shamrock shake, while also keeping with the natural and nutritional benefits of this recipe, we opted to use fresh mint leaves for our shake. The fresh herb brings the flavor and aromatics associated with the beloved Shamrock Shake without subjecting this alternate recipe to the same artificial flavors that we're trying to avoid. Alternatively, you could always use your favorite organic mint extract if you're worried about not using all of the fresh mint before it goes bad.
Finally, it is a milkshake after all, so we have to add ice cream! Find your favorite natural vanilla bean ice cream, and you're ready to go! All that's left is blending all of the ingredients together, and then you can enjoy your guilt-free, healthy shamrock shake. While it's not entirely "healthy" due to the ice cream, it's definitely an improvement from the largely artificial Shamrock Shake. Plus it's always better to make your own version of a food when possible, so that you can fully understand what exactly you're putting in your body. 
When you make our healthy shamrock shake, you'll cut out all of those artificial colors, flavors, and food additives while also nourishing your body with real, fresh fruits and vegetables. For example, making your shake using Berry Choco-Latte will provide you with 32% of your daily fiber, 140% of your daily vitamin A, and a whopping 180% of your daily vitamin K! In addition to all of the nutritional benefits, using a smoothie recipe for your own shamrock shake adds more depth to the flavor rather than a plain vanilla milkshake with mint syrup. That's better than finding a four leaf clover!
We made sure to let our lil' lassie taste testers try out this recipe, and, after thoughtful deliberation on the flavor profile, they described the healthy shamrock shake as "creamy and fantastic!" The ice cream adds a bit of sweetness, makes it creamy, and has a hint of vanilla which brings out the already delicious flavors of the smoothies, and the mintiness satisfies that craving for a mint milkshake. The best part? This healthy shamrock shake can be made from the comfort of your own home any time of the year, so you don't have to wait for Saint Patrick's Day to enjoy it. That wins this recipe a pot of gold in our book!    
Sláinte!
A Healthy Shamrock Shake
Total: 5 mins
Yield: 1 servings
Ingredients
1 1/4 cup water
1 - 3 mint leaves, fresh or frozen 
1/4 - 1/2 cup natural vanilla bean ice cream
Preparation
Step 1: Pour Smoothie Ingredients into Blender
Step 2: Add your mint leaves
Step 3: Add water & blend for about 60 seconds
Step 4: Add ice cream & blend for another 30 - 60 seconds, or until shake is desired consistency
Step 5: Enjoy!
Try some of these smoothies with this recipe!
Check out some of our other products: